...MATRIX...

KEANU REEVES (Neo) is best known for his starring role in the box-office mega-hit "Speed." Reeves co-starred with Denzel Washington, Emma Thompson, Michael Keaton and Kenneth Branagh in "Much Ado About Nothing."

Previously he was seen in "Bram Stoker's Dracula," directed by Francis Ford Coppola; "My Own Private Idaho," directed by Gus Van Sant; Kathryn Bigelow's action-adventure, "Point Break"; "Bill & Ted's Bogus Journey," the sequel to the very popular "Bill & Ted's Excellent Adventure"; and, as Prince Siddhartha, in Miramax's "Little Buddha," directed by Bernardo Bertolucci.


Raised in Toronto, Reeves performed in various local theater productions and on television before relocating to Los Angeles. His first widely acclaimed role was in Tim Hunter's "River's Edge."

He then starred in Marisa Silver's "Permanent Record" and with Amy Madigan and Fred Ward in "The Prince Of Pennsylvania." He was next cast as the innocent Danceny in Stephen Frears' highly praised "Dangerous Liaisons" alongside Glenn Close, John Malkovich and Michelle Pfeiffer; in Ron Howard's comedy "Parenthood"; and in Lawrence Kasdan's "I Love You To Death."


Audiences saw Reeves for the first time as a romantic lead opposite Barbara Hershey in Jon Amiel's "Tune In Tomorrow," also starring Peter Falk.
His other credits include the science-fiction thriller "Johnny Mnemonic" and Alfonso Arau's period drama "A Walk In The Clouds."

Reeves most recently starred in "The Devil's Advocate" opposite Al Pacino; Andrew Davis' action film "Chain Reaction";Cassady, "Last Time I Committed Suicide."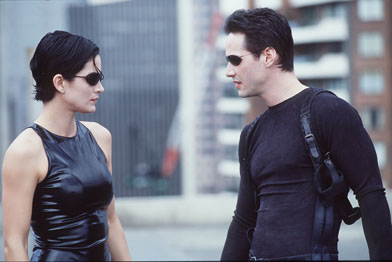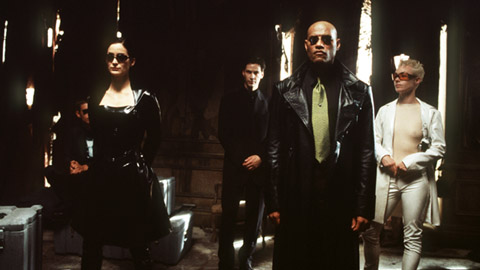 CARRIE-ANNE MOSS (Trinity) was born in Vancouver, British Columbia, Canada. She began her career as a model and moved to Europe, modeling in Japan and in Spain. While working in Spain, she landed a regular role in the television series "Dark Justice," which was produced in Barcelona for its first season. Moss moved to Los Angeles the following year when the series switched locations.


In the six years since her acting career began, Moss has appeared in more than 60 hours of television as well as two television series prior to her present role in "The Matrix."

For her work in "Due South" in 1996, she was nominated for a Gemini Award for the Best Performance by an Actress in a Guest Role in a Dramatic Series. Her film credits include starring roles in "Sabotage" and "The Secret Life Of Algernon."

In addition to film and television, Moss recently appeared at the Hudson Theater in Los Angeles in "Outward Bound."